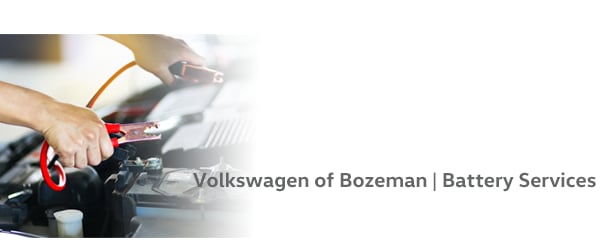 Genuine Volkswagen Battery Testing and Replacement
Unlike any other battery on the market, Genuine VW Batteries are specially designed to meet the precise power requirements of your sophisticated VW model as well as the electronic demands of today's European-engineered cars. And in addition to featuring a full range of power ratings, each Genuine VW Battery is competitively priced and backed by a limited warranty.
However, even the best batteries will eventually require a replacement. Whether it's extreme temperatures, time, or simply leaving your headlights on overnight, certain factors can play a part in the lifecycle of your battery. So if you require a battery replacement, count on us to help set you up with the Genuine VW Battery best suited to your vehicle. You can also read up on your car's battery specs in your VW Online Owner's Manual.
---
Factors affecting your Genuine VW Battery
Car batteries fail when they cannot hold enough electricity to start the engine. Despite being designed to resist a variety of environments and factors, there are three specific issues that can cut a battery's life short.
The sensitive electrochemical processes inside your battery accelerate in high temperatures, essentially wearing away at the vital components inside.
Corrosion at the terminals can end a battery's service prematurely by throttling its ability to recharge.
If you recently had your battery jumped, consider a battery replacement. Leaving your battery drained long enough affects its ability to store starting power.
Recycling your Genuine VW Battery
Nearly every car battery gets recycled into new batteries, making car batteries one of America's most recycled products. Virtually every battery manufactured gets recycled.
In 2015, car batteries had a 99% recycling rate, according to the U.S. Environmental Protection Agency. Car batteries are more recycled than paper (65%), glass (26%), and aluminum drink cans (55%). Volkswagen owes thanks to our partners who help make this possible.