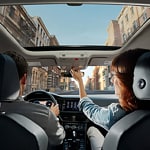 The Volkswagen Jetta remains one of the most popular compact sedans on the roadways of Bozeman and elsewhere in the country. The Volkswagen Jetta has been and remains an industry leader in its class because of its extraordinary design features.
The Volkswagen Jetta design features include an array of incredible interior elements. For example, the Volkswagen Jetta has an amazing ambient light system with a choice of 10 colors. This feature allows the adaptation of the interior lighting the mood and desires of those in the sedan. In addition the Volkswagen Jetta has projector LED headlights. What's more, the Jetta has attractive with LED daytime running lights as well. This exterior lighting scheme adds a dash of style to the car.
If you want to learn more about the Volkswagen Jetta, contact Volkswagen Bozeman. Our team will arrange a test drive for you.